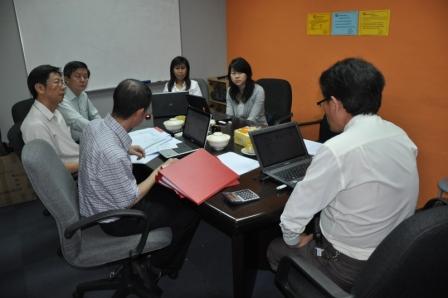 9G Elevator Continuity Case Study (Elevator & Escalator Industry)
9G Elevator & Escalator Business Continuity Management Case Study
9G Elevator Pte Ltd is a thriving elevator and escalator maintenance company that provides elevator and escalator services to building owners and managing agents. 9G operates in Singapore, providing their services to a wide-range of client's, from town councils – Aljunied and Ang Mo Kio – to hotels such as Pan Pacific Hotel Singapore. With expanding local operations, a resilient operational plan is essential to manage the business in the event of a disaster.
The Challenge
9G is mainly involved in the commissioning and installation of elevators and escalators, as well as follow up services such as elevator and escalator maintenance and repairs. One example is the provision of 24-hour call-back service and emergency breakdown repair, which means that 9G will have to be on constant standby to deal with any problems. Due to the fact that there is zero allowable downtime for these services, as contractually agreed, 9G realized that a Business
Business Continuity Plan will have to be developed to prepare for potential disasters such as fire, telecommunication failure and the absence of key staff.
"We were concerned that 9G might not be able to fulfil the contractually required terms and conditions should we be hit by a crisis or disaster. Our reputation is of utmost importance.
Therefore, we feel very strongly towards a Business Continuity Plan that is functional and resilient, so as to protect our business. " says Loo Tien Hoe, Managing Director of 9G Elevator.
One of the key competitive issues, such as brand assurance (and perception) of local enterprises, as compared to foreign MNCs, also drove 9G to venture into Business Continuity. The Elevators and Escalators industry is still largely dominated by foreign brands such as Mitsubishi, Escamo and Hitachi. Therefore, to give themselves an edge over these foreign MNCs, 9G decided that it needs to assure clients that they can continue to rely and depend on 9G in times of crises or disasters. It is with all these in mind that 9G embarked on the project, with the objective of developing a comprehensive plan with minimal disruption to current business operations. They required a robust plan to satisfy management and clients' concerns.
The Solution
Even though the company has about 70 personnel, most of them are maintenance staff who operate on-site. This leaves about 20 administrative staff in the office, who provide back-end direction and support. With such a lean organization structure, 9G did not consider recruiting in-house expertise to drive the BCM Program, but instead appointed a project team to explore and pursue alternative solutions. The appointed 9G project team immediately started to source for a consulting firm to develop the company's Business Continuity skills and create an effective Business Continuity Plan.
"After some deliberation between the different approaches to BCM consulting, we decided to advance with GMH's consulting services because it proposed a more holistic BCM implementation this involves developing BCM competency in the organisation, which goes hand in hand with the consultancy service. This arrangement is perfect for a company like ours with no prior BCM experience," recalls Tien Hoe.
GMH, in conjunction with BCM Institute, developed a specialized training program to inculcate and develop BCM Competency in the organisation. GMH consultants aided in the development of an integrated BCM framework by setting up 9G's BCM objectives and policies, together with the management and project team. This set the stance of the management and provided clear directions for all staff in the organisation. Consultants also led the BCM team and management through the various phases in the BCM Planning Methodology.
For example, in the Risk Analysis and Review (RAR) phase, a list of potential threats was identified and each of these threats was rated according to their likelihood and impact on 9G's people, processes and infrastructure.
In the Business Impact Analysis (BIA) phase, the Minimum Business Continuity Objectives for each business unit in 9G was documented. The team managed to identify the financial and non-financial impact of not performing a particular business function, as well as the Recovery Time Objectives (RTO) and Recovery Point Objectives (RPO) for each business function. As previously noted, all Maintenance business functions were identified as highly critical to the 9G, evident with their 4-hour RTO. This is followed closely by Admin/Accounts and IT's business functions, some of which have RTOs of only 1-day.Therefore 9G had to come up with strategies to recover critical maintenance functions like call-back and hotline services so as be able to continue to respond to clients.
9G came up with three main recovery options after a cost benefit analysis – Provision of a remote site, establishment of a private alternate site and continuation of operations from clients' site. 9G's favoured operating from a private alternate site during a disaster as there is readily available infrastructure and utilities. Hence, this reduces the set-up time and any extra maintenance costs.
Due to the nature of the business, Logistics, Maintenance and Installation will have to continue its operations at the clients' site, since these personnel are the ones performing the immediate/emergency repair, maintenance and installation jobs. Logistics will have to support Maintenance services with spare parts during a crisis. It was also decided during the Recovery
Strategy workshop that 9G's IT data be backed up daily. All systems and data will have to be backed up weekly for the entire organisation and kept at the alternate site. As part of pre-crisis preparation, cross training will also be conducted for key personnel.
Armed with these strategies in mind, 9G, together with GMH consultants, then proceeded to write the Business Continuity Plan with more detailed recovery procedures for each business unit, including the roles and responsibilities of those in the BCM Team. Assembly points, alternate and remote site layouts and 9G's organization and individual business unit call trees were inserted into the plan. The plan was consolidated by the consultants and the result was a comprehensive plan which can be easily understood by all. A call tree test and walkthrough exercise was conducted so that the staff are aware of the organization's BCM efforts. "This BCM initiation really brought out the other side of 9G – one which is forward thinking and always planning for a disaster. A culture of non-complacency and service continuity in the face of disasters has also been embedded in the organisation," remarked a very pleased Tien Hoe.
The Result
9G developed operational and IT recovery procedures to overcome a seven day disaster (planning assumption). The project ensured that the company identified and prepared an alternate location as the headquarters for its management and operations. The Business Continuity Management System developed under GMH's guidance allowed 9G to be certified SS540 compliant from Certification International. 9G is now the first company in its industry to attain BCM certification. This means that it will have the ability to create added value while tendering for key projects, especially those from government agencies, such as Housing Development Board (HDB). 9G is also able to ensure its corporate governance as an organisation and as a Service Level Agreement (SLA) provider by being prepared and certified in terms of service continuity. Loo Tien Hoe best sums up the project, "management and our clients now feel comfortable knowing that 9G's operations are secure, which definitely gives us an edge over the other elevator and escalator companies."
At A Glance
What they wanted to do:
Develop a robust business continuity plan
Create internal Business Continuity expertise
What they did:
Provided managers and staff the necessary knowledge to develop a business continuity plan
Jointly created a plan with GMH consultants
What they accomplished:
Achieved SS540 certification from Certification International
Developed a disaster headquarters
Implemented resilient IT and operational procedures
Satisfied management and clients' concerns
First company in its industry to attain BCM certification
Statement:
"GMH provided us the necessary guidance to develop our Business Continuity plan and internal training program. We now feel confident to manage our own Business Continuity program."
9G Elevator Pte Ltd
Managing Director
About GMH:
GMH offers a total business continuity solution for organizations of any size.  GMH, in conjunction with its clients, develops comprehensive business continuity plans. Its partnership with BCM Institute ensures that clients will gain domain Business Continuity knowledge and the ability to develop future Business Continuity plans.
http://www.gmhasia.com/wp-content/uploads/2014/12/20101221-Certification-Audit-of-9G-by-Certification-International-GMH.jpg
298
448
Goh Moh Heng
http://www.gmhasia.com/wp-content/uploads/2014/12/GMH-Logo-Updated-24Aug2010-copy-300x155.png
Goh Moh Heng
2015-02-13 00:15:54
2016-06-12 12:33:51
9G Elevator Continuity Case Study (Elevator & Escalator Industry)